Pandora 40 Hour Listening Limit
Pandora 40 Hour Listening Limit
I have been using Pandora for quite a while, and have never felt the need to upgrade my account to the Pandora One service.  There has never been a big enough reason to get me to pay the $36/year to upgrade.  I don't believe I am stingy… I just don't believe in unnecessary spending.  If you check out the link above, there really aren't that many advantages to using Pandora One.  The main benefits are higher quality streaming and the removal of ads.  I have never personally had an issue with the audio quality I currently get with the regular service, and I am okay with having to deal with ads if I am not going to pay.  Really, the only reason I have considered upgrading my account is because Pandora has been on the verge of collapse and I figured they could use all the help they could get.  However, more recent news that Pandora will be bringing in $40 million in revenue has suppressed my worries.
More recently,  I have started running into issues because of the new 40 hour listening limit set for regular Pandora users.  This blog post from Pandora explains that while the royalty crisis is now over, a new 40 hour limit for regular subscribers has been set in place.  Or, for the direct explanation given when getting close to the limit: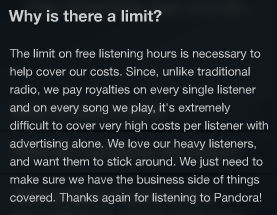 I am trying to understand exactly how this works.  Is Pandora really losing money with every single user that isn't paying for Pandora One?  The highest figures I have seen for how much Pandora pays per song is $0.0019.  If an average song is about 3 minutes long, meaning I will listen to about 20 songs every hour – then I will have listened to a total of 800 songs in a month before my account becomes restricted.  This means that using the steepest figures, my cost to Pandora as a user every month would be $1.52.  I understand that this is purely the cost of royalties and doesn't encompass the other costs associated with Pandora on a month to month basis, but it is still apparent to me that the royalty fees aren't as much of an issue as Pandora may make them seem.
At this point it comes down to how much Pandora makes off of ad revenue – specifically the ads that are presented to me, to make things a little simpler.  I get an audio/video ad roughly every 5-10 songs while listening, as well as an ad when changing stations.  Based on the previous figure of 800 songs per month, this means that I will see roughly 120 ads during the month (and this doesn't even cover the constantly change visual ads surrounding the player).  In order to cover the cost of the songs I get to listen to that month, Pandora would need to make roughly $0.01266 per ad view.  If Pandora is making less than this off of their ads… then yes, they are going to have problems – although there are at least a few other good revenue streams for Pandora from their non-subscription users.
So what is the point of all this talk?  I need an easy way to continue listening to music after that 40 hour limit hits – hopefully a way that allows me to keep my stations as well as one in which I don't have to pay.  In my research I have come across ways around the 40 hour limit that involve clearing cookies, but based on reviews it seems that these methods are not always that promising.  My method may require a little more setup, but definitely works – just create another account!  For those readers with morals holding them back,  I was unable to find anything limiting users to more than one account while looking through the Terms of Use for Pandora.  Another thing that makes this method so great, is that Pandora already has built-in functionality to help you share your stations to your new account.  Let's go over how to set this up:
First, log out and create a second account.  After that account is set up, log back in to your original account.
Second, go to the options area of each account and select "Share this Station With a Friend".

Select Share this Station With a Friend

Next, enter in the email address tied to the new account and click send.

Enter the email address of the new account.

Last, accept all the new stations in the new account.
At this point you are ready to go.  I normally listen to my first account for most of the month, and then switch over to the second account when I reach the limit.  Next month, I start with my original account again.  I am curious to see where Pandora goes with its "Pandora One" service, but for now… this seems to be the best method for me.  Let me know how it goes for you!